DAP 3 – FEEDING STATION FOR DAIRY COWS
The feeding station DAP 3 is particularly robust and is structured for maximum installation versatility. The supporting frame is made of hot galvanized steel, while the plastic parts are in compliance with international standards for food contact. The bottom of the trough is covered in stainless steel AISI 304. The front access to all electronic components and mechanical components makes it simple to carry out every maintenance operation. The modular construction allows easy installation of additional or optional components in successive stages after starting up the system.
NO RESIDUE ON THE BOTTOM…. The dispensers have a speed proportional to that of consumption and stop when the animal withdraws.
NO FALL CAUSED BY IMPACT…… The constructive peculiarities of the dispenser prevent feed from falling even in case of impacts.
OPERATING SAFETY………… The dosing unit rotation control and the diagnostic system immediately signal the occurrence of any failures.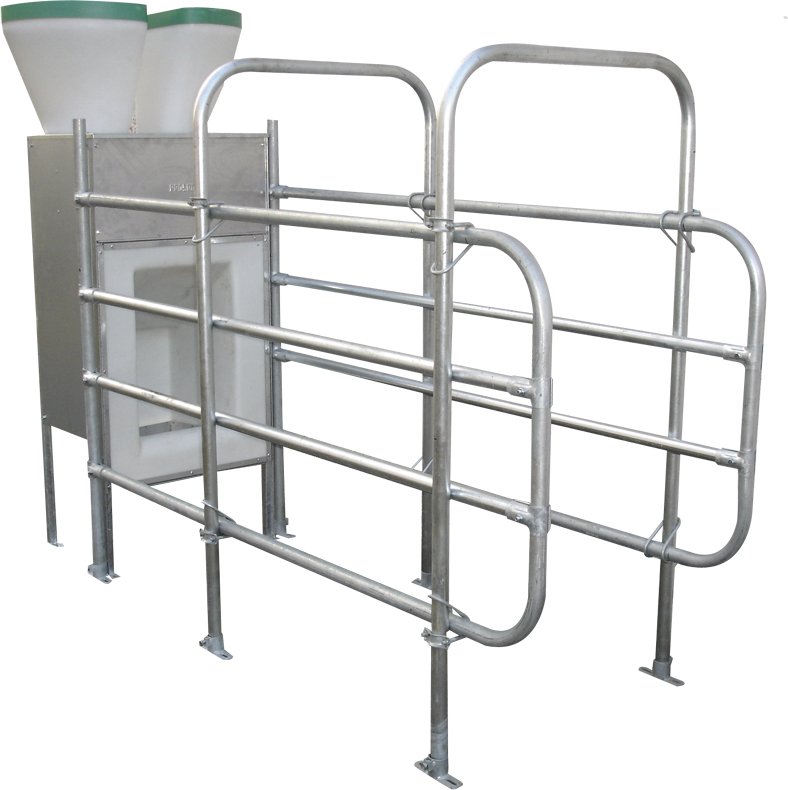 DAP3B – FEEDING STATION FOR BUFFALO OR ANIMALS WITH HORNS
While maintaining the electronics, the feed dosing system and other components of the DAP series, the "DAP 3B" station for buffalos is featured by an even more robust structure that allows its use by all horned animals. The "DAP 3B" station , coupled with electronic ear tags, is particularly suited to feeding semi-wild state animals.